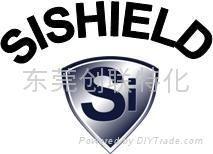 As the most professional expert that specializes in providing the material and technique of antimicrobial in China, Trinion Chemical provides professional product & measure to solve your problems of anti-bacterial, anti-mildew/fungi, anti-algae, anti-mite and odor-proof in wide field including:
Textile & leather: chemical fiber and cotton fabric, shoes, socks, underwear, garments, bedding; natural & artificial leather;
Plastic & rubber: food container / package, medical tools & utensil, toys, kitchen tools, bathroom ware, water pipe / case; foaming-plastic, etc.
Painting: water-based & powder painting, adhesive, etc.
Bamboo, wood, grass: woven artwork, furniture, etc.
Full-scale technical support for you:
Free sample for test! Free technical instruction in factory! Complete supporting documents including certificate.
Free treatment of your textile sample! Tag service available! (SiShield only)
By co-operating with SGS, we provide authoritative, high-effective test at low cost.
Brief introduction of our product:
SIS AM500, SIS AM7200: EPA registered SiShield antimicrobal for textile with very high safety to human & environment. Only 2-4%o.w.f. is needed to achieve >99% anti-bacterial and 0 grade anti-fungi. Works perfect odor-proof & against Escherichia coli, staphylococcus aureus, Klebsiella pneumoniae, candida albicans and aspergillus niger etc. The treated product can run through more than 50 repeated laundry.
EPA, FDA registered Silver ion based antimicrobial powder - product of Japan, provides anti-bacterial rate of >99% with dosage of only 0.3%. It brings very low affect to transparency or color of plastic. Highly safe to human & environment, food container, package, etc. Also works very well against Methicillin Resistant Staphylococcus Aureus.
EPA registered antimicrobial SilverClear, product of TransTex Technologies Inc. of Canada, which is widely usded for antimicrobial treatment of textile, including medical textile for open-cut wound.
Organic anti-bacterial, anti-mildew, anti-algae, widely used for plastic, foaming-plastic, painting & adhesive, bamboo & wood, etc.
EPA registered SiShield antimicrobial spray for shoes: low dosage of spray is enough to achieve antimicrobial & odor-proof effect.
EPA registered Rohm & Haas antimicrobial product: VINYZENE SB-27, IT-4010, etc..